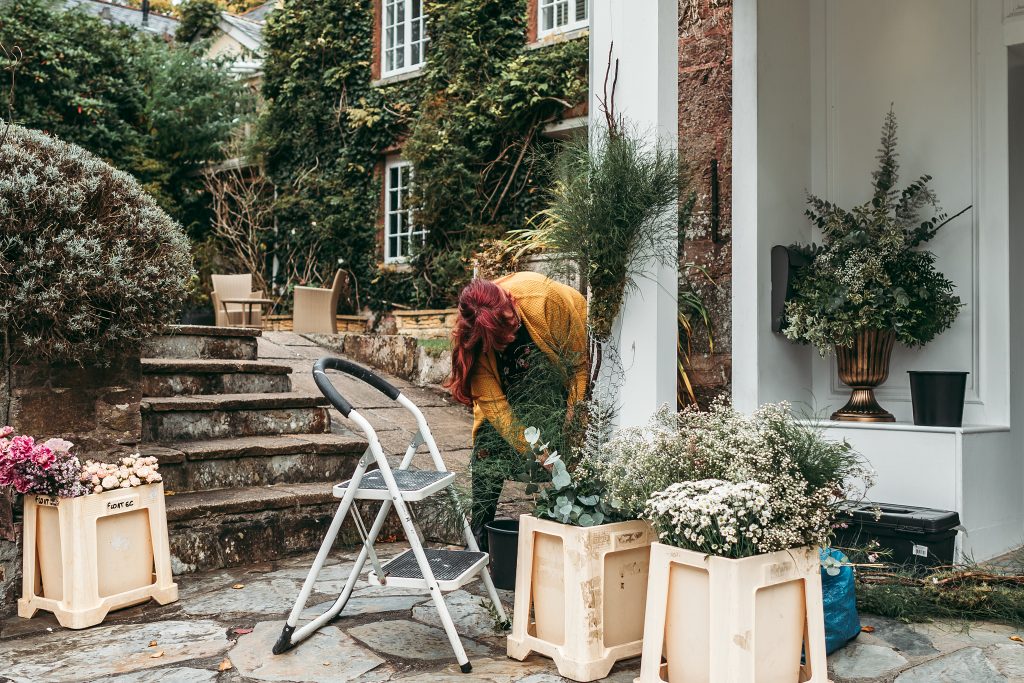 Brookside Flower farm is a sustainable, eco-friendly farm and floral design studio based in Mid Cornwall. Owner Katie has a passion for art and design, loving to create arrangements that reflect the colours and natural beauty of the flowers she grows. The farm produces a mass of traditional British cut flowers and foliage, used to style wedding venues and produce unique bouquets. We ask Katie for help and advice on making your day special.
When couples are thinking about wedding day flowers where would you suggest they start and what key things should they consider?
The brides bouquet is a great place to start it sets the style, colour, shape and feel of the wedding flowers and will feature in all your wedding photos. There are so many beautiful flowers to choose from, so choose your favourites. The supporting flowers in the bouquet are continued throughout for bridesmaids, buttonholes, corsages, and venue. All with the same look and feel.

Consider your own personal style, you may choose a neat and tidy style that accentuates the design; or a wild and flowing natural look with focus on harmony of colour and texture. There are many styles in between that express the brides personal style

The style, size and shape of the brides dress are also important factors. Petite brides can be swamped by a huge bouquet. Whilst a dramatic ballgown may look silly with a petite bouquet. A trailing style can be wide or narrow.
Consider Season and feelings you want to create. Each season has its own colours, tones and tints that contribute to our mood. For example; if you choose your flowers for a spring wedding in autumn, be prepared to change your mind. Spring with its fresh new shoots blossoms and buds, it has a background of golds and lime greens full of energy and optimism. That's how we feel in the spring.
In contrast autumn has a warm relaxed and cosy feel with gold, orange, reds and purple together with grasses and seedheads in nude and chestnut browns, muted pastels also work well. Summer has an abundance of flowers in every bright and brilliant hue, both pastels and bright colours so much to choose. Whereas winter is a time of rest for nature, branches twigs and silhouette dominate. Colours are deep forest green, chestnut brown, moss and lichen, or silver, white and icy blues. Against this backdrop flowers are bold and stunning with dramatic berries and added sparkle
A smaller wedding doesn't mean a less gorgeous wedding. Can you share some of your small wedding flower ideas with us?
I have been incredibly lucky to have been a part of so many smaller weddings and I have to say they are my favourite. An intimate wedding can be so much more relaxed, it takes the pressure off you from trying to please everyone. Sharing your wedding day with your closest family and friends can be so personal and meaningful. It also gives the opportunity for lots of personal touches and involving those close to you in the celebration. It is far easier on a smaller scale to create a breath-taking backdrop to your ceremony and an intimate table setting you will always remember. Those special details; such as chair backs and favours are easier to include on a smaller budget.
For couples not based in Cornwall can you describe how you would work with them to make sure everything is just right?
Each experience is totally unique for me. Email, a phone conversation or WhatsApp is usually the starting point. If the couple have some ideas they want to share with me then I set up a private Pinterest board that no one else can see. We keep adding ideas to the board allowing it to develope. We might start with a quotation as a rough guide and develop designs within a budget. A deposit can paid to secure the date and designs can be tweaked right up to 10 days before the wedding date.
How would you describe your floristry?
I always work with my customer; their own personal style what they want to achieve is paramount. I tend towards a natural style, viewing my work as an art form, framing and staging the flowers. In a similar way to a nature photographer or artist. As a grower I observe each leaf, each delicate petal, stem and silhouette and how they grow naturally. This reflects how they are placed within a design. Understanding how different species grow, their vase life and any special requirements they may have. I also love many different flowers that don't grow in our country.
I have been a grower for 7 years and trained with the British Academy of Floral Art to become a qualified freelance florist. It involves continuously updating my skills, trying out new designs and I love a challenge.