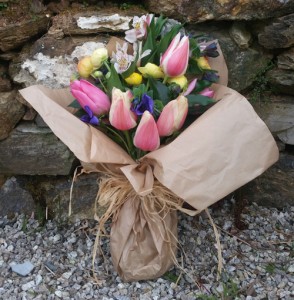 Why Choose Our Flowers?
Flower Box is the very best way to buy flowers because Our flowers are very fresh locally grown and environmentally friendly and delivered locally.
Our flowers are grown on the farm at Tregrehan Mills, St Austell. We grow using only natural fertilisers and organic pest controls, to bring you beautiful, completely natural and healthy looking flowers.
Each week is unique with different flowers available as the season progresses; and a wonderful surprise.   We hand pick our flowers specially to make up the bunches that we deliver to your door all year round.
How Does It Work?
You pay for your first bunch then pay for the bunches you've received at the end of each month. You can cancel, defer, add to your order, or deliver to a different address at any time and there is no minimum order. You will receive an invoice summary and we will process your payment automatically To make things as straightforward and easy as possible we use Paypals automatic billing Just fill out your details then set up the billing on the following page. We will be in touch within 24 hours by Email Text or Phone to let you know that everything is set up for you
Delivery
We only deliver locally so we are able to offer you great value. Keeping our service local is also kinder to the environment because we use less fuel. We deliver direct to your door. We also have some local collection points. Because we only supply locally our flowers are guaranteed fresh they haven't travelled halfway round the word or been stored in coolers for days or weeks. Our flowers are beneficial for the environment, supporting wildlife, butterflies and bees. The flowers promote good health and wellbeing for our growers and our customers. They are also a great deal for you. We will be in touch within 24 hours to confirm your delivery slot. Please make any changes by 7pm Tuesday for Friday or Saturday delivery.