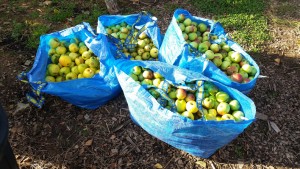 The orchard is fairly young at the moment and for the end of September early October period we have a bit of a gap in the Cornish and west county varieties. We have young trees waiting to go in, but is a few year before they produce fruit. The one exception to this a Cornish ladys finger. It has the large almost melon sized apples with deep ridges and colour varying from green to red russeting from the sun. Other apples ready so far are Laxton superb ,Braeburn and the seedling of a long gone tree from the old orchard, that looks like a Captain Broad cider apple. The Cornish Aromatic will have some 5 apples at the end of the month if we are lucky.
October also saw another outing of the cider press, this time pressing firstly the remaining apples from the orchard. The juice was again quite sweet, fragrant and about the right acid. It's now in a barrel after an fairly fast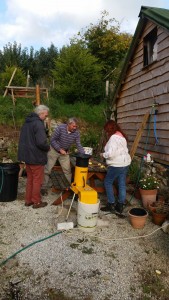 fermentation. All this applely fun was repeated again after a good friend and cider drinker Phil felt we had not made enough and we should collect some apples from his garden and the Robert Hart memorial garden at PFAF.
A car full of apples later and other cider drinking volunteer (Rich) manage to pulp and press some 160kg ish Egremont Russets, Phil Favourite and some unknown, juicy green apples. This lot made 45- 50 litres of juice, also bubbling away.