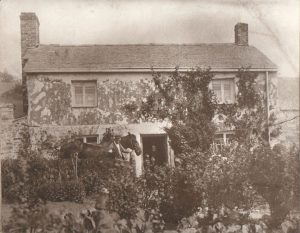 Brookside Farm history has been steadily pieced together from information from various sources. Maps have been invaluable in showing the original fields and hedges. People within the local community for photos and for memories, especially the late Joe Mitchell whose mother lived in the farm. The Valerie Brokenshire Book, A Village Portrait is also a good source of information.
Circa 1752
The first recorded reference to the farmhouse and lands. Referred to by documents held at Cornwall Records Office.
1830
Tithe maps of the Brookside farm shown having extensive orchards and arable fields. A large area of furze (Gorse) was grown as fuel. Also shown are the stream, pond and leat to the Mill further down the valley in the front garden. The Mill itself was one of two in the village.
1880
The Ordinance Survey shows the farm house, land, mill pond and sluice. Brookside farm's connection to the village mill came from the Hobba family who for generations farmed here. Their family members also ran the mill and William Hobba was the last miller to operate it, until it fell into disrepair in 1906. It was briefly used to prepare tin from prospecting in nearby area in 1910, nothing was found and the venture closed down.
1890
The Tregrehan stream was a rendezvous for people in the village, especially on Saturday night as water could not be collected on the Sabbath. On the Monday there would be queues of people collecting water for washday. The spring outside Brookside provided the village with clear fresh water, until piped water was installed from the Magdalen spring further up the valley. An early picture of the farm shows the land to the front of the house being used fruit bushes and vegetables, the farm horse and dog are also shown.
The farm had a number of cows and used to sell Milk for 1d for a pint jug. At the time it was one of four milk producers in the village.
1916

A photograph show the farm house and buildings. Large stacks of furze, and Hobba family members. The Gentleman in army uniform is from the Aussie contingent of the Hobba family, came over as part of the war effort. He was sadly wounded in action and convalesce back in Tregrehan, he worked on the farm and later married a local girl from St Blazey. They returned to Australia in the early 1930's
1970
A number of the out lying fields were sold off. In 1977 the last remaining orchard was sold for housing development.
1986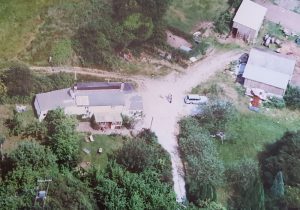 Brookside was a mixed farm with 12 bullocks. Growing sweetcorn, leeks, winter cauliflowers, and cabbages although haylage was the main crop.
1990
The farm was split up and most of the out buildings were demolished.
2007 – Present
We moved in started to restore the house and returned the land to productivity.
References and Acknowledgments
Cornwall Record Office Link
BBC Doomsday project Link
Joe & Steve Mitchell
Valerie Brokenshire
Hobba Family